Mobile Signal Booster Repeater
$759.00
Free shipping on orders over $150
Satisfaction Guaranteed
No Hassle Refunds
Secure Payments
Mobile Signal Booster Repeater Amplifier
Forget holding your phone skyward and hoping for the best! Smart mobile signal repeaters amplify and then disperse a mobile signal in a defined area, so all mobile devices on that particular carrier will get improved reception.
It's certainly frustrating to experience unsatisfactory connection in your home or office every single day. Luckily, we have a device that will help boost your signal to full 5 bar strength instantly, in case of a stable outside signal of at least 2 bars! Our Tri-Band Signal Booster provides up to 300 sqm worth of signal coverage, ideal for small houses, bars, cafés, restaurants, offices, boats, etc. The device boosts voice and 3G/4G network signals for Vodafone and 2 Degrees, as well as 3G/LTE signal for Spark over 900/1800/2100 MHz frequencies.
The booster installation is a simple procedure – all you have to do is follow a few simple steps. The kit comes with everything you need to get connected and use of the booster will not negatively affect your health.
The digital display on this booster clearly shows you the signal strength your network is providing. And, also how much signal gain you are getting through this booster.
How it works
1). The outdoor antenna receives the mobile signal from signal tower.
2). The booster receives the outside signal from the outside antenna.
3). The booster improve the outside signal and send it to the indoor antenna.
4). The indoor antenna broadcasts the boosted signal to devices inside the home.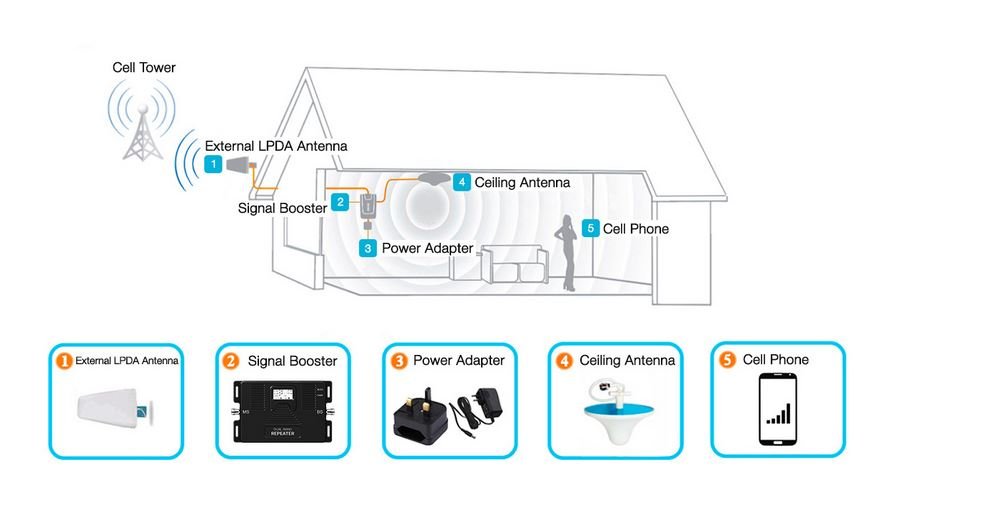 Easy 4 steps of installation
1). Find an appropriate position where there is a stable mobile signal to install the outdoor antenna and toward to the cell signal tower.
2). Connect the outdoor antenna to the signal booster via the cable.
3). Connect the indoor antenna to the signal booster.
4). Check all the connectors is tightened then plug in power. Done!
Only logged in customers who have purchased this product may leave a review.